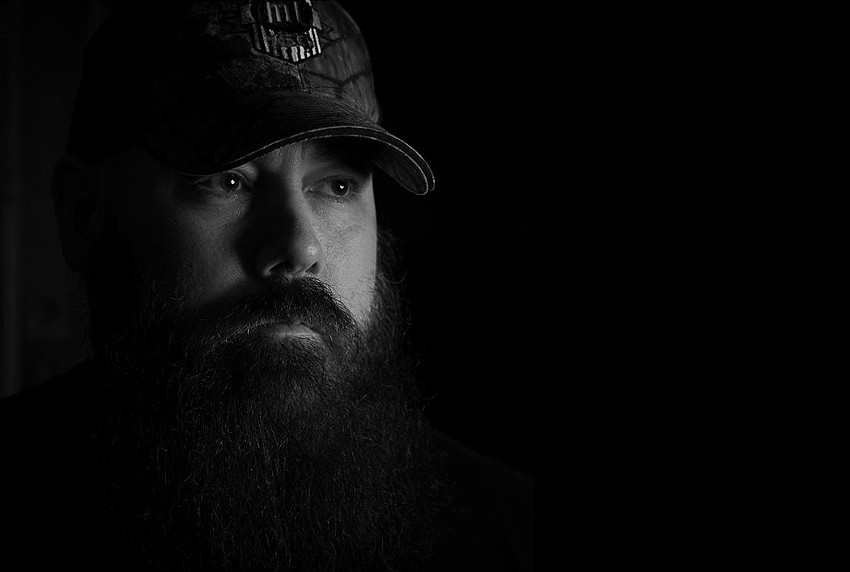 Mickey Lamantia
Mickey Lamantia
Over all, Lamantia has let country music know who he is with "Outlaw Life," and that he is here to stay. He has also been savvy in his mission of self promotion, recently securing himself a big opening spot in Music City this week. "I guess I'll be making my Nashville debut," he says. "I'm opening for Mickey Gilley. How cool is that?"
Mickey Lamantia has an interesting take on how he approaches his music. As a correctional officer for the state of Rhode Island for nearly 20 years, he often uses the loneliness of the enclosed walls, and the slow passage of time for inspiration. "The prison has given me a lot of perspective that I apply to songwriting. You have to be rough around the edges to work here. I've dealt with some evil people and I've dealt with people who just made mistakes," he says. And though his voice rings similar to modern star, Cody Jinks, Lamantia is far from red dirt country, at least in geography.
Lamantia grew up in Cranston, Rhode Island, a bay city popularized by Seth McFarland's hit show, Family Guy. With blue collar Christian roots, his dad worked construction on heavy equipment and his mom didn't work until the kids got older. As the last of five children, Lamantia jokes, "If it wasn't for Miller beer, I'd never been born."
Lamantia has just released his second album, Outlaw Life, which fits right into the traditional country music hole left empty by popular radio. While he has his heel stomping, roadhouse songs, like "Locked and Loaded" and "First Last One," it's his ballads that will keep him on the map. With it's powerful story and mature composition, his song "23rd Psalm" has all the elements country music fans love. The song is about a hard working man at the end of his life and all that he desires to take with him. "I chose the Whiskey" is a remorseful tune with a title that speaks for itself. While "Outlaw Life" is his ghost town anthem of the album, listeners could easily mistake it for a Jamey Johnson song, both vocally and in construction. Over all, Lamantia has let country music know who he is with "Outlaw Life," and that he is here to stay. He has also been savvy in his mission of self promotion, recently securing himself a big opening spot in Music City this week. "I guess I'll be making my Nashville debut," he says. "I'm opening for Mickey Gilley. How cool is that?"
Because Lamantia is working full time and raising a family, he can't play as many live gigs as most breakthrough artists. He has two children and refuses to put his own dreams ahead of their needs, so a move to Nashville or Austin isn't realistic either. "I wouldn't want to disrupt their lives if I wasn't sure," he says. But none of these obstacles are stopping him. Lamantia uses social media in clever ways and it seems to be working. He hosts a show called Whiskey Wednesdays, which is sponsored by the spirit brand Sons of Liberty. He often plays live from their distillery and averages anywhere from 10,000-40,000 views on that show alone. He has nearly 1 million views on a video for his original song "How Do I Say Goodbye?" and it has been shared over 25,000 times on Facebook. Outlaw Life was No.4 in pre-sales on iTunes for two weeks, a thought that would be incomprehensible to most breakthrough country artists that don't have major PR machines and labels pushing them forward. Instead, Lamantia calls his fans to action, having them call radio stations to request his songs and some have responded. "I spend four to six hours per day navigating my social media pages. It ain't easy," he says.
For this family guy, there really isn't any other way to go about his career and since he writes all his own songs, he can choose to do that which serves him. Other than his Gibson guitars, Lamantia's loved ones are his priority. He says he would like to play The Opry while his parents, now in their 80's, are still around to see it and he probably will. Other than that, he has no major plans of transition just yet. "I've worked 19 years as a prison guard and if I have to do 19 more to support my family, I'll do that."
Mickey Lamantia

7:15 PM-8:30 PM

Spinnaker Lounge

Deck 13, FWD

Mickey Lamantia

6:15 PM-7:30 PM

Spinnaker Lounge

Deck 13, FWD

Mickey Lamantia

7:00 PM-8:15 PM